Reception is open 24 hours
Warm and cold buffet breakfast is served from 8:00 am to 11:00 am and is included in the price of accommodation
Internet access via Wi-Fi covering all hotel premises, internet corner with a printer
Rooms on the top floors are equipped with air conditioning, for reservation please contact directly our hotel reception at info@uzelenehohroznu.cz 
Wine tasting in the hotel Gothic wine cellar (upon request)
Electronically secured outdoor parking next to the hotel
Parking fee: 25 EUR / 24hours / car. Booking in advance needed: info@uzelenehohroznu.cz 

Gothic wine cellar
In the evening, relax in the Gothic wine cellar. The uniqueness of this historic space is emphasised by its original 17th century well. Wine lovers are sure to appreciate the carefully selected wines from Moravia and around the world. The wine cellar is large enough for up to 12 people. For reservations please call: +420 603 332 105.
Outdoor Patio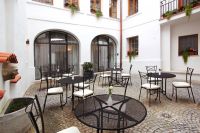 In the summer, start your day with our gourmet breakfast served in the romantic courtyard while listening to our little water fountain.
Service
Our ultimate goal is to pamper our guests with personal attention in the truly unique surroundings.
Recommendations of off-the-beaten-path trips in and out of Prague, including ones that trace the personalities of our rooms
Ticket concierge – theater, cinema, opera, musical, concerts, exhibitions
Prague sightseeing tours
Transport from and to the airport
Limousine service, car rental
Parking
Hotel offers electronically secure outdoor parking.
Parking fee: 25 EUR / 24hours / car.
We recommend booking in advance at info@uzelenehohroznu.cz. The capacity is limited. 


Restaurant


During your stay in Prague, don′t forget to visit SANTINI GARDEN Restaurant. It is just a few steps from the hotel. It is a place that J.B. Santini-Aichel (1677 - 1723) chose for his final reset. Santini was a brilliant Czech architect of Italian origin who created his own unique style - the baroque-gothic. During the summer days, there is a charmin seating area in the garden, a real Lesser Quarter gem. Come to taste traditional recipes and modern Czech culinary trends. Restaurant offers wide selection of unique wines as well.
Mon - Sun 11:00 am - 11:00 pm
Jánský vršek 13, Prague 1
www.santinigarden.cz